Vintage 80's Fendi Signed Gold 18K Plate F & Roman Coin Clip Rare Earrings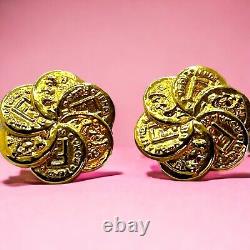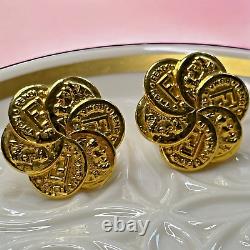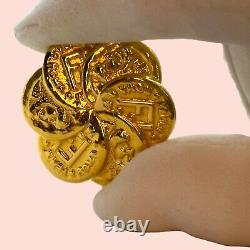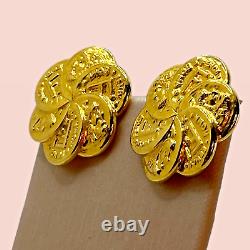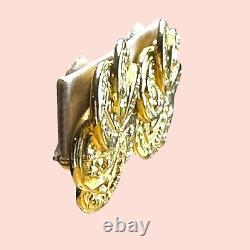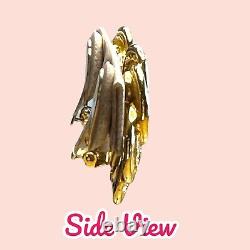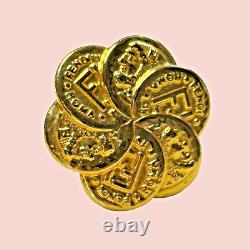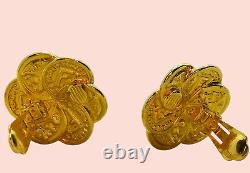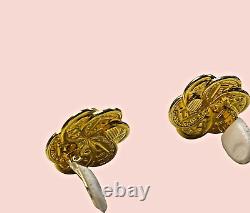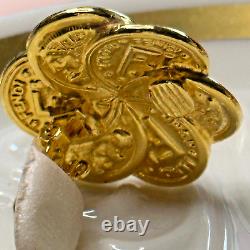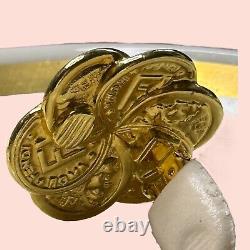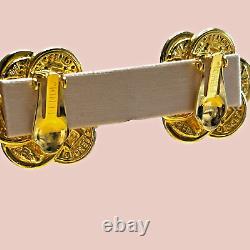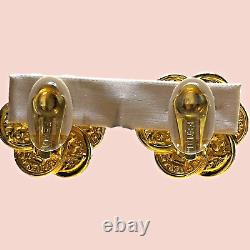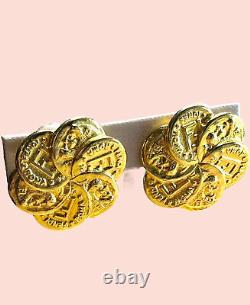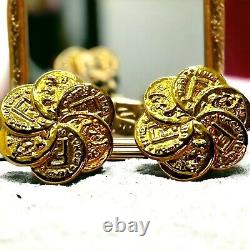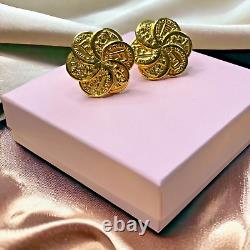 Vintage 80's Fendi Signed Gold 18K Plate "F" & Roman Coin Clip Rare Earrings. Vintage 80's Fendi fashion jewelry designs are statement pieces with a bold look. Fendi is one of my favorite fashion houses. Fendi is one of Italy's few longstanding family-run fashion houses, they have been giving us astounding fashion for over 100 years still firmly entrenched in its founders' - Adele and Edoardo Fendi - commitment to artisanal craftsmanship and imaginative furriery. For a short period, they made costume jewelry in the 80's-90's.
Fendi no longer makes jewelry. Fendi Earrings: Fendi crafts works in 18 carat gold plate, designers took their cues from ancient Mediterranean goldsmiths. Think Etruscan-style hammered works, Roman coins, images of gods or goddesses from Greek mythology, along with influences of classical architecture. These earrings are a gorgeous example of 80's Fendi. 6 individual coins fan out to create a circle stud style clip earring.
True to Fendi, the "F" is featured on 3 coins per earring alongside raised reliefs of Roman figure head similar to the Roman God Zeus. Each design is front and back, attention to detail.
Each earring measures a generous 1 1/2. Intaglio relief coins, meaning a raised surface.
Intaglio is part of a long history in Italian art popularized in the Renaissance. Fendi brought this Italian inspiration to their Italian designs, honoring their heritage.
Also true to Fendi, many Fendi pieces feature intaglios featured Roman heads from coins which also inspired Fiend's boldly shaped pieces. Like many Fendi earrings from the 80s, Fendi vintage earrings are mainly clip on, due to the weight. Also popular in the Fendi 80's, were large gold button earrings, jewelry that replicated buttons on fashion, were popular. Regal images included sunbursts, lions, crowns, heads from Roman coins, or Greek gods and goddesses. Giant door knocker earrings were always part of the collections.
The inverted F logo was creatively integrated into many pieces, as seen on these stunning examples. One of the things I love about clip earrings vs. Posts earrings is that the clip earrings can be added to necklaces, chains or beaded to add a "pendant" of sorts.
I see clip earrings as more versatile. In addition, clip earrings on heavier earrings are a sign of good design that comes with quality design in high end fashion houses. The difference is in the details, which you find on designer jewelry, especially vintage which is higher quality than jewelry made today. These earrings have one other added detail, they come with covers for the metal clips on the back of the earrings, not only protecting and preserve the metal on the clip and your ear.
One side of the cover is clear and one side has a cushion to cushion the clip on your ear for extra comfort. Fendi jewelry is worth purchasing as collector's items, little pieces of fashion history, or to wear with your wardrobe, a timeless, classic, enduring accessory. Each piece of jewelry is individually made by hand, and exquisitely crafted, providing wearable longevity. See pictures as part of description. If you need more information, please send a note.
All our pieces are guaranteed to arrive as described and gorgeously packaged with care in an unbranded gift box.

---