ITALY 1788 JOSEPH II Habsburg Milan GOLD Full SOUVERAIN (10.96gr 28mm) OLD MONEY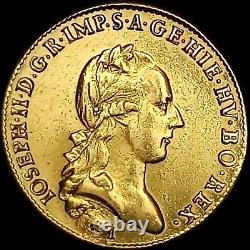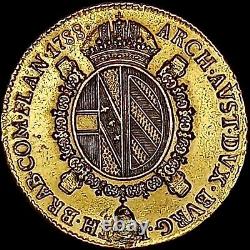 1788 M Joseph II Habsburg Holy Roman. Emp eror SOUVERAIN RARE Italian States. Duchy MILAN Mint GOLD SOVRANO. Weight 10.9 6 gr.
Obverse: Bust Joseph II Habsburg to right above mintmark Milan Lettering:IOSEPH·II·D·G·R·IMP·S·A·GE·HIE·HV·BO·REX· M. The coin features on the obverse the portrait of Emperor Joseph II Habsburg of the Holy Roman Empire as Duke of Milan Italian States and the reverse depicts the Coat of Arms of the House of Habsburg-Lorraine.
Condition: NOTE a small mark at 6:00 in exergue; otherwise this piece is perfect for any Numismatic Collector or experienced Investor adding to their assets portfolio a beautiful rare full Souverain Gold coin (10.96gr 28mm). Please judge by yourself: the coin pictured is the same auctioned.

---