2006 R SAN MARINO Italy GENERAL ARGENO Vintage Gold 2 Scudi Coin ANACS i89504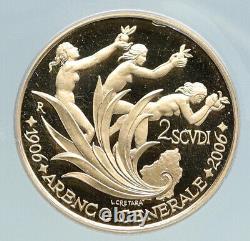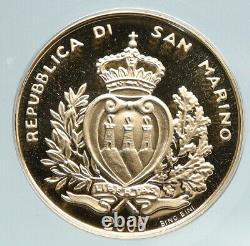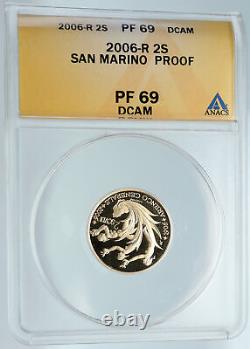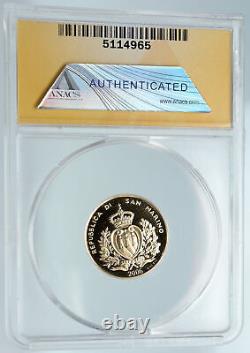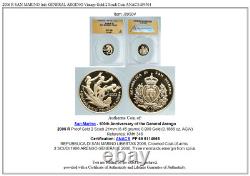 Item: i89504 Authentic Coin of. 100th Anniversary of the General Arengo 2006 R Proof Gold 2 Scudi 21mm (6.45 grams) 0.900 Gold 0.1866 oz. AGW Reference: KM# 346 Certification: ANACS. PF 69 5114965 REPUBBLICA DI SAN MARINO LIBERTAS 2006, Crowned Coat-of-arms. 2 SCUDI 1906 ARENGO GENERALE 2006, Three mermaids emergin from spiral. The Arengo was the name of the assembly that ruled San Marino from the fifth century C. It was made up of the heads of San Marino's Great families and had no leader or fixed meeting place. This made San Marino almost unique in the period as a state that had no Head of State. However this form of rule was cumbersome and the Arengo was crippled by feuds between the Great Families. By the early 13th century the Arengo had become so dysfunctional that the citizens of San Marino decided to elect their own assembly, which they called the Grand and General Council.
This assembly became very powerful, and by 1243 the Pope, who was the nominal ruler of San Marino, made the Grand and General Council the supreme body of San Marino. San Marino, officially the Republic of San Marino (Italian: Repubblica di San Marino), also known as the Most Serene Republic of San Marino (Italian: Serenissima Repubblica di San Marino), is an enclaved microstate surrounded by Italy, situated on the Italian Peninsula on the northeastern side of the Apennine Mountains.
Its size is just over 61 km. (24 sq mi), with a population of 33,562. Its capital is the City of San Marino and its largest settlement is Dogana in the municipality of Serravalle.
San Marino has the smallest population of all the members of the Council of Europe. With Italian being the official language, along with strong financial and ethno-cultural connections, San Marino maintains close ties to its much larger neighbour; it is located close to the riviera of Rimini, one of Italy's main coastal resort areas. The country derives its name literally from Saint Marinus, a stonemason originating from the Roman colony on the island of Rab, in modern-day Croatia.
In AD 257, Marinus, according to legend, participated in the reconstruction of Rimini's city walls after their destruction by Liburnian pirates. Marinus then went on to found an independent monastic community on Monte Titano in AD 301; thus, San Marino lays claim to be the oldest extant sovereign state as well as the oldest constitutional republic. San Marino is governed by the Constitution of San Marino (Leges Statutae Republicae Sancti Marini), a series of six books written in Latin in the late 16th century, that dictate the country's political system, among other matters. The country is considered to have the earliest written governing documents, or constitution, still in effect. The country's economy mainly relies on finance, industry, services and tourism.
It is among one of the wealthiest countries in the world in terms of GDP (per capita), with a figure comparable to the most developed European regions. San Marino is considered to have a highly stable economy, with one of the lowest unemployment rates in Europe, no national debt and a budget surplus, and has the world's highest rate of car ownership, being the only country with more vehicles than people. The cuisine of San Marino is extremely similar to Italian, especially that of the adjoining Emilia-Romagna and Marche regions, but it has a number of its own unique dishes and products. Its best known is probably the Torta Tre Monti ("Cake of the Three Mountains" or "Cake of the Three Towers"), a wafer layered cake covered in chocolate depicting the Three Towers of San Marino.
The country also has a small wine industry. There are 220 km (140 mi) of roads in the country, the main road being the San Marino Highway.
Authorities license private vehicles with distinctive Sammarinese license plates, which are white with blue figures and the coat of arms, usually a letter followed by up to four numbers. Many vehicles also carry the international vehicle identification code (in black on a white oval sticker), which is "RSM". There are no public airports in San Marino, but there is a small private airstrip located in Torraccia and an international heliport located in Borgo Maggiore.
Most tourists who arrive by air land at Federico Fellini International Airport close to the city of Rimini, then make the transfer by bus. Two rivers flow through San Marino, but there is no major water transport, and no port or harbour.
The site San Marino: Historic Centre and Mount Titano became part of the UNESCO World Heritage List in 2008. The decision was taken during the 32nd Session of the UNESCO World Heritage Committee composed of 21 Countries convened in Québec, Canada. The country has a long and rich musical tradition, closely linked to that of Italy, but which is also highly independent in itself. A well-known 17th century composer is Francesco Maria Marini. San Marino has taken part in the Eurovision Song Contest eight times, achieving its first final in 2014 with the third participation of Valentina Monetta and the song "Maybe". World-renowned expert numismatist, enthusiast, author and dealer in authentic ancient Greek, ancient Roman, ancient Byzantine, world coins & more. Ilya Zlobin is an independent individual who has a passion for coin collecting, research and understanding the importance of the historical context and significance all coins and objects represent.
Send me a message about this and I can update your invoice should you want this method. Getting your order to you, quickly and securely is a top priority and is taken seriously here. Great care is taken in packaging and mailing every item securely and quickly.
What is a certificate of authenticity and what guarantees do you give that the item is authentic? You will be very happy with what you get with the COA; a professional presentation of the coin, with all of the relevant information and a picture of the coin you saw in the listing.
Additionally, the coin is inside it's own protective coin flip (holder), with a 2x2 inch description of the coin matching the individual number on the COA. Whether your goal is to collect or give the item as a gift, coins presented like this could be more prized and valued higher than items that were not given such care and attention to. When should I leave feedback?
Please don't leave any negative feedbacks, as it happens sometimes that people rush to leave feedback before letting sufficient time for their order to arrive. The matter of fact is that any issues can be resolved, as reputation is most important to me. My goal is to provide superior products and quality of service. How and where do I learn more about collecting ancient coins?
Visit the Guide on How to Use My Store. For on an overview about using my store, with additional information and links to all other parts of my store which may include educational information on topics you are looking for. This item is in the category "Coins & Paper Money\Coins: World\Europe\Italy, San Marino, Vatican\San Marino". The seller is "highrating_lowprice" and is located in this country: US. This item can be shipped worldwide.
Country/Region of Manufacture: San Marino
Certification Number: 5114965
Certification: ANACS
Grade: PF 69
Year: 2006
Circulated/Uncirculated: Uncirculated
Composition: Gold
Denomination: 2 Scudi

---