Tiberius Gold iridescent patina. JESUS MONEY The most famous coin of Bible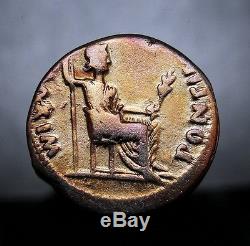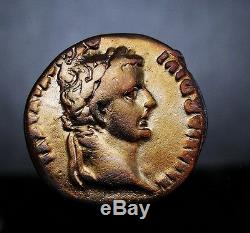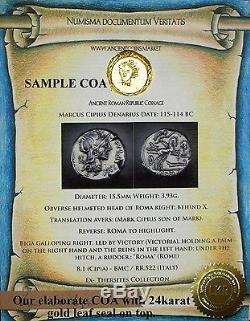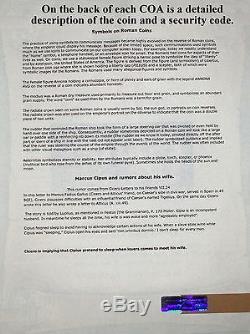 Follow us in Social Media. Tiberius Claudius NeroAugust (14-37) Denarius.
Name of the workshop: Gaule, Lyon. Comments on the state of conservation: Strike on a small blank, Perfectly centered on both sides with complete grentis. Gorgeous Gold iridescent patina with reflections.
26 - BMC / RE. Obverse title: TI CAESAR DIVI - AVG F AVGVSTVS.
Description obverse: Tiberius head on the right. Translation obverse: "Tiberius Caesar Divi Augustus Filius Augustus". (Tiberius Caesar son of the divine Augustus,). Titulature revers: PONTIF - MAXIM. Description reverse: Pax (Peace) or Livia seated right on a seat, holding an olive branch of the left hand and the right a long scepter; Double line of exergue.
Translation reverse: "Pontifex Maximus", (Great Pontiff). Comment about this specimen: Ribbons of type 3. As for Augustus' Penny, this piece belongs to the Imperial workshop of Lyon and this type of denarius circulated during practically a century. It is very often encountered with Gallic coins of the terminal phase in the archaeological excavations. It is the most common Roman currency in Gaul for the Julio-Claudians.
The first transmission is characterized by a base represented by a double line of exergue and the feet of the seat are smooth; The feet of Livia rest directly on the ground; On the right, the ribbons of the crown type 3 fall into small undulations, the portrait is realistic. Comments: Starting from Tiberius, the weight of the denier slightly decreases and seems to be calculated at 1 / 84th book instead of 1 / 82th under Augustus, (theoretical weight 3.66 g instead of 3.96 g). This size will remain valid until the reform of Nero in 64. Lyon was the only workshop to strike gold and silver under the reign of Tiberius. The type with the Peace (or Livie seated) had a longevity unmatched since it was struck throughout the reign.
Livia could be represented on the reverse side of this denarius. Tiberius' mother died in 29. This denarius is also the New Testament, when Jesus is shown a denarius with the effigy of Caesar (Tiberius), and his interlocutor tries to deceive him by asking him: Should we pay tribute to Caesar?
Knowing their hypocrisy, Jesus answers them:'Why do you try to deceive me, give me a denarius and I will tell you. And they held out to him. And he questioned them:'To whom is the image and the legend of this play. And they told him, They were of Caesar.
Then Jesus said to them,'Return to Caesar what belongs to Caesar and give back to God what belongs to God', taken from the Gospel of St. History: Tiberius, the son of Tiberius Claudius Nero and Livia, was born on 16 November 42 BC His father, was Caesar's lieutenant during the war in Alexandria (48-47 BC). Octave removed Livia, the mother of Tiberius, and the wife in 38 BC while she was pregnant with Nero Drusus. His reign will last 23 years. He lost his son Drusus, murdered by his wife, Livia, with the help of the prefect of the Praetorian court, Séjanus, her lover, who retained his power until 31.
Denounced for his crimes by his sister-in-law, Antonia, Sejanus is executed. Tiberius retired to Capri until the year 27, died, possibly murdered, in 37 and his grand-nephew Caligula, great grandson of Augustus, succeeded him. Photos are done with an old camera which can't capture details and it shows some blur around edges. In reality, this coin is much better in hand.
Our Elaborate COA comes with 24 karat Gold seal on top. It has detailed Description/ Provenance and history of the coin. All information which you supply to us is enclosed. We respect your privacy and promise to safeguard the confidentiality of your information.
However, in the event that we suspect fraudulent or otherwise unlawful activity, we reserve the right to supply your information to law enforcement agencies. All sales are final " AS IS " 6. The point of sale for all items online is New York. All items are guaranteed genuine. You have 60 days to check your coin with a grading company.
All payments must be made within 3 days of the invoice date. The item "Tiberius Gold iridescent patina.
JESUS MONEY The most famous coin of Bible" is in sale since Sunday, March 12, 2017. This item is in the category "Coins & Paper Money\Coins\ Ancient\Roman\ Imperial (27 BC-476 AD)".market" and is located in NY. This item can be shipped worldwide.
Provenance: Ex Thersites Collection
Denomination: Denarius
Ruler: Tiberius
Grade: XF 45
Cleaned/Uncleaned: Uncleaned
Composition: Silver
Certification: ancientcoins.

market

Country/Region of Manufacture: Italy
Date: 14-16 AD

---