Brilliant roman coin with Gold iridescent patina. Voting. Cassius Longinus. WorthK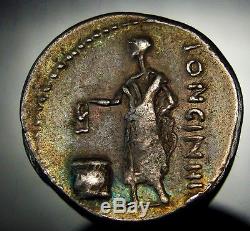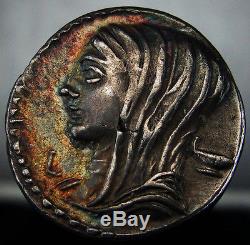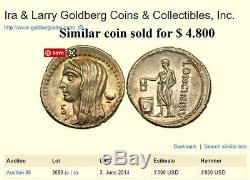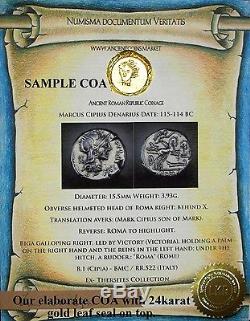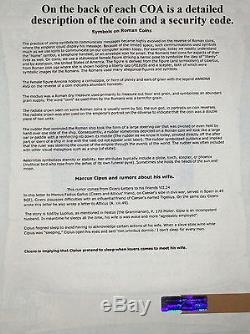 Follow us in Social Media. Silver Denarius (3.89 g). Crawford 413/1; Sydenham 935; Cassia 10.
Well struck on a nice broad flan, well centered and Gorgeous gold iridescent patina. Description obverse: Veiled head of Vesta on the left; behind, Kylix or cymbium (two-handled drinking bowl) and a letter in front of it, (C). Description reverse: Citizen standing to the left, depositing a ballot marked V'Vti rogas' in a cist that serves as an urn. Translation reverse: "Longinus triumvir", (Longinus triumvir monetary). Commentary on this copy: For this type, Mr.
Crawford found an estimate of 94 corners of right and 104 corners of reverse. The reverse of this coin is illustrated in full page in the new manual of Latin 4th (Magnard), p. Comments: This denier is dated 60 BC by Mr. Harlan instead of 63 by Mr.
It commemorates the memory of L. Cassius Ravilla who proposed, in 137 BC, A new method for counting voices within the framework of the'lex Cassia tabellaria'.
The V inscribed on the bulletin indicated that we voted yes'Vti rogas'. If the vote was negative, we tabled a tablet A for'antiquo' (I vote against). History: It seems that Lucius Cassius Longinus is the member of the Cassia clan who was praetor in 66 BC Candidate to the consulate for 63 BC it was included in the conspiracy of Catilina denounced by Cicero And for which Lucius Cassius Longinus was executed in 60 BC In 63 BC, Cicero took the consulate and defended Murena'Pro Murena'. Caesar was elected'Pontifex Maximus' (great pontiff).
Octavius, the grand-nephew of Caesar, was born at Thurium. C' Is also the liquidation of the conspiracy of Catilina thanks to Cicero,'In Catilinam'.
Catilina will die the following year. Mithridates VI, King of the Bridge, is assassinated or committed suicide after the betrayal of his son Pharnace.
The bridge became a Roman province. Pompey took Jerusalem after a three-month siege. This coin is interesting in that it appears to lack the personal and family names of the moneyer.
However, appearances can be deceiving. On the obverse below the chin of Vesta is a control letter, and the only letters employed on this issue are C, A, S, I and L. If one collects enough coins of this moneyer, he can then spell the moneyer's name in full. But why might a moneyer do this?
In the case of L. Cassius Longinus it appears to relate to the recent exposure and suppression of the Catiline conspiracy. One of the most notorious members of the conspiracy whose task it was to burn down the city of Rome was one L. Photos are done with an old camera which can't capture details and it shows some blur around edges. In reality, this coin is much better in hand.
Our Elaborate COA comes with 24 karat Gold seal on top. It has detailed Description/ Provenance and history of the coin. All information which you supply to us is enclosed. We respect your privacy and promise to safeguard the confidentiality of your information. However, in the event that we suspect fraudulent or otherwise unlawful activity, we reserve the right to supply your information to law enforcement agencies.
All sales are final " AS IS " 6. The point of sale for all items online is New York. All items are guaranteed genuine. You have 60 days to check your coin with a grading company. All payments must be made within 3 days of the invoice date.
The item "Brilliant roman coin with Gold iridescent patina. WorthK" is in sale since Thursday, March 09, 2017. This item is in the category "Coins & Paper Money\Coins\ Ancient\Roman\ Republic (300 BC-27 BC)".market" and is located in NY. This item can be shipped worldwide.
Certification: NGC is advisable
Provenance: Thersites collection
Denomination: Denarius
Grade: AU 58
Cleaned/Uncleaned: Uncleaned
Composition: Silver
Country/Region of Manufacture: Italy
Date: 81 BC

---