1981 Gold Silver Bronze 3 Coin Italy Vatican 4 Popes Holy Year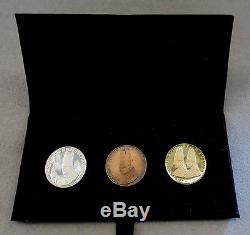 1981 GOLD SILVER BRONZE 3 COIN ITALY VATICAN 4 POPES HOLY YEAR. GOLD / SILVER / BRONZE 3 COMMEMORATIVE JUBILEE SET FROM 1981 IN HONOR OF THE THEN UPCOMING 1983 EXTRAORDINARY JUBILEE YEAR - "THE HOLY YEAR OF REDEMPTION". FEATURING PORTRAITS OF JOHN PAUL II, JOHN PAUL I, PAUL VI AND JOHN XXIII. OBV: 3/4 SHOULDER PORTRAIT OF THE JOHN PAUL II WEARING A MITRE AND HOLDING THE PAPAL CROSS IN BOTH HANDS; RIGHT SMALL ARMS OF POPE JOHN PAUL II; LATIN LEGEND "JOANNES PAVLVS II PONTIFEX MAXIMUS" SURROUNDS. REV: CROWNED NIMBATE MADONNA AND CHILD FACING; LATIN LEGEND "REGINA POLONIAE (QUEEN OF POLAND)" AND THE NAME OF THE POLISH TOWN OF CZESTOCHOWA THUS REPRESENTING "OUR LADY OF CZESTECHOWA". CONTAINS 10.1 GRAMS OF BRONZE. 26.5 MM IN DIAMETER. OBV: PORTRAIT OF POPE JOHN PAUL I WEARING A TALL MITRE LEFT; LATIN LEGEND "JOANNES PAVLVS I PONTIFEX MAXIMUS" SURROUNDS. REV: VIEW OF SAINT PETER'S SQUARE WITH THE BASILICA IN DISTANCE CENTER, OBELISK FLANKED BY BERNINI'S COLLONADE AND TWO FOUNTAINS; BOTTOM CENTER THE HOLY DOOR OPEN WITH RADIANT CROSS INSIDE, ABOVE THE LATIN LEGEND "JUBILAEIUM EXTRAORDINARIUM". CONTAINS 10.1 GRAMS OF FINE SILVER. OBV: MITRED AND MANTLED BUSTS OF TWO POPES FACING LEFT; LATIN LEGEND "IOANNES XXIII ET PAVLVS VI". REV: RADIANT DOVE OF PEACE FACING WITH WINGS OUTSRETCHED; LATIN LEGEND ABOVE "UT UNUM SINT (TO BE ONE)" AND BELOW "CONCILIUM OECUMINICUM VATICANUM II (VATICAN ECUMENICAL COUNCIL II)". CONTAINS 8.1 GRAMS OF. THE HOLY YEAR , OR JUBILEE, IS A GREAT RELIGIOUS EVENT IN THE ROMAN CATHOLIC TRADITION. IT IS A YEAR OF FORGIVENESS OF SIN AND RELEASE FROM ITS PUNISHMENTS AND IS USUALLY CELEBRATED EVERY 25 YEARS. AT SAINT PETER'S BASILICA THERE IS THE HOLY DOOR.
THAT IS WALLED UP WITH BRICKS UNTIL THE START OF THE HOLY YEAR (AT CHRISTMAS EVE), WHEN THE DOOR IS UNWALLED AND OPENED FOR PILGRIMS TO PASS THROUGH. THE FOLLOWING CHRISTMAS EVE, AT THE END OF THE JUBILEE, THE DOOR IS AGAIN SHUT AND BRICKED UP UNTIL THE NEXT JUBILEE'S OBSERVATION. THIS THREE MEDAL COMMEMORATIVE SET COMES IN ORIGINAL CUSTOM COIN BOOK WITH BUTTON SNAP STRAP AND IS ACCOMPANIED BY CEERTIFICATE.
All emails sent during those hours will be answered same day. Included in the item price or. We cannot declare any package as a "gift". The item "1981 GOLD SILVER BRONZE 3 COIN ITALY VATICAN 4 POPES HOLY YEAR" is in sale since Wednesday, March 12, 2014.
This item is in the category "Coins & Paper Money\Coins\ World\Europe\Italy, San Marino, Vatican\Vatican". The seller is "rarecoincollector" and is located in Fort Lauderdale, Florida. This item can be shipped worldwide.

---