1865 Italian VICTOR EMMANUEL II Antique 20 Lire Gold Coin Italy NGC MS62+ i61380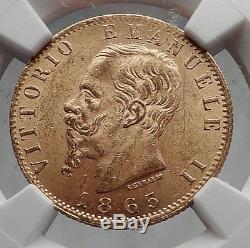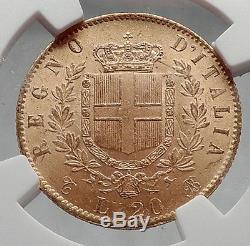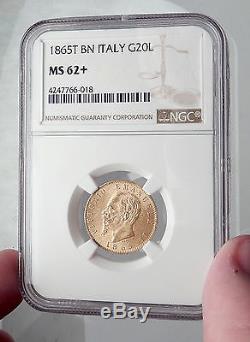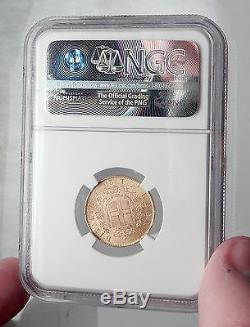 King of Italy: March 17, 1861 - January 9, 1878 King of Sardinia; Duke of Savoy: March 23, 1849 - March 17, 1861 1865 T BN Gold 20 Lire 21mm (6.4516 grams) 0.900 Gold 0.1867 oz. AGW Turin mint Reference: KM# 10.1 Certification: NGC. MS 62+ 4247766-018 VITTORIO EMANUELE II 1865, Head of King Victor Emanuel II left. REGNO D'ITALIA L 20 around crowned coat of arms.
(Vittorio Emanuele Maria Alberto Eugenio Ferdinando Tommaso; 14 March 1820 - 9 January 1878) was King of Sardinia. From 1849 until 17 March 1861, when he assumed the title King of Italy. To become the first king of a united Italy.
Since the 6th century, a title he held until his death in 1878. The Italians gave him the epithet Father of the Fatherland. Victor Emmanuel was born the eldest son of Charles Albert, Prince of Carignano.
And Maria Theresa of Austria. His father succeeded a distant cousin as King of Sardinia-Piedmont in 1831. He lived for some years of his youth in Florence.
And showed an early interest in politics, the military, and sports. In 1842, he married his cousin Adelaide of Austria. He was styled as the Duke of Savoy. Prior to becoming King of Sardinia-Piedmont. He took part in the First Italian War of Independence.
He became King of Sardinia-Piedmont in 1849 when his father abdicated the throne after a humiliating military defeat by the Austrians at the Battle of Novara. Victor Emmanuel was immediately able to obtain a rather favorable armistice at Vignale. By the Austrian imperial army commander Radetzky.
The treaty, however, was not ratified by the Piedmontese lower parliamentary house. The Chamber of Deputies, and Victor Emmanuel retaliated by firing his Prime Minister Claudio Gabriele de Launay, replacing him with Massimo D'Azeglio. After new elections, the peace with Austria was accepted by the new Chamber of Deputies. In 1849 Victor Emmanuel also fiercely suppressed a revolt in Genoa. Defining the rebels as a vile and infected race of canailles.
" In 1852, he appointed Count Camillo Benso of Cavour ("Count Cavour). This turned out to be a wise choice, since Cavour was a political mastermind and a major player in the Italian unification in his own right. Victor Emmanuel II soon became the symbol of the Risorgimento. , the Italian unification movement of the 1850s and early 60s. He was especially popular in the Kingdom of Sardinia-Piedmont because of his respect for the new constitution and his liberal reforms.
Following Victor Emmanuel's advice, Cavour joined Britain and France in the Crimean War. Cavour was reluctant to go to war due to the power of Russia at the time and the expense of doing so.
Victor Emmanuel, however, was convinced of the rewards to be gained from the alliance created with Britain and, more importantly, France. After successfully seeking British support and ingratiating himself with France and Napoleon III at the Congress of Paris in 1856. At the end of the war, Count Cavour arranged a secret meeting with the French emperor. In 1858, they met at Plombières-les-Bains. , where they agreed that if the French were to help Piedmont combat Austria, which still occupied the Kingdom of Lombardy-Venetia.
In northern Italy, France would be awarded Nice. Main article: Second Italian War of Independence.
The Italo-French campaign against Austria in 1859 started successfully. However, sickened by the casualties of the war and worried about the mobilisation of Prussian troops, Napoleon III secretly made a treaty with Franz Joseph of Austria. Whereby Piedmont would only gain Lombardy. France did not as a result receive the promised Nice and Savoy, but Austria did keep Venetia.
A major setback for the Piedmontese, in no small part because the treaty had been prepared without their knowledge. After several quarrels about the outcome of the war, Cavour resigned, and the king had to find other advisors. France indeed only gained Nice and Savoy after the Treaty of Turin. Was signed in March 1860, after Cavour had been reinstalled as Prime Minister, and a deal with the French was struck for plebiscites to take place in the Central Italian Duchies. Later that same year, Victor Emmanuel II sent his forces to fight the papal army at Castelfidardo and drove the Pope into Vatican City.
His success at these goals led him to be excommunicated. Conquered Sicily and Naples, and Sardinia-Piedmont grew even larger. On 17 March 1861 the Kingdom of Italy was officially established and Victor Emmanuel II became its king. Victor Emmanuel supported Giuseppe Garibaldi.
S Expedition of the Thousand. However, the king halted Garibaldi when he appeared ready to attack Rome, still under the Papal States. As it was under French protection. In 1860, through local plebiscites, Tuscany, Modena, Parma and Romagna decided to side with Sardinia-Piedmont. Victor Emmanuel then marched victoriously in the Marche. After the victorious battle of Castelfidardo. (1860) over the Papal forces. The king subsequently met with Garibaldi at Teano. Receiving from him the control of southern Italy. Another series of plebiscites in the occupied lands resulted in the proclamation of Victor Emmanuel as the first King of Italy. By the new Parliament of unified Italy. He did not renumber himself after assuming the new royal title, however. Became the capital of the new state.
Main article: Third Italian War of Independence. In 1866 Victor Emmanuel allied himself with Prussia. In the Third Italian War of Independence. Although not victorious in the Italian theater, he managed anyway to receive Veneto after the Austrian defeat in Germany. In 1870, after two failed attempts by Garibaldi, he also took advantage of the Prussian victory over France in the Franco-Prussian War.
To capture Rome after the French withdrew. He entered Rome on 20 September 1870 and set up the new capital there on 2 July 1871, after a temporary move to Florence. The new Royal residence was the Quirinal Palace. The rest of Victor Emmanuel II's reign was much quieter.
After the Kingdom of Italy was established he decided to continue on as King Victor Emmanuel II instead of Victor Emmanuel I of Italy. This was a terrible move as far as public relations went as it was not indicative of the fresh start that the Italian people wanted and suggested that Sardinia-Piedmont had taken over the Italian Peninsula, rather than unifying it. Despite this mishap, the remainder of Victor Emmanuel II's reign was consumed by wrapping up loose ends and dealing with economic and cultural issues. His role in day-to-day governing gradually dwindled, as it became increasingly apparent that a king could no longer keep a government in office against the will of Parliament.
As a result, while the wording of the Statuto Albertino. Stipulating that ministers were solely responsible to the crown remained unchanged, in practice they were now responsible to Parliament.
Victor Emmanuel died in Rome in 1878, after refusing to meet with Pope Pius IX. S envoys, who could have reversed the excommunication.
He was buried in the Pantheon. His successor was his son Umberto I.
Victor Emmanuel II in 1849. Brooklyn Museum - Caricature of King Victor Emmanuel II - Thomas Nast - overall Crimean War. Victor Emmanuel reviews the troops for the Crimean War. Victor Emmanuel meets Giuseppe Garibaldi. Tomb of Victor Emmanuel II at the Pantheon. Officially the Italian Republic Italian. Italy covers an area of 301,338 km. (116,347 sq mi) and has a largely temperate climate.
Due to its shape, it is often referred to in Italy as lo Stivale the Boot. With 61 million inhabitants, it is the 4th most populous EU member state.
Located in the heart of the Mediterranean Sea. Italy shares open land borders.
Have thrived on the Italian Peninsula. Ultimately emerged as the dominant power, conquering much of the ancient world.
And becoming the leading cultural, political, and religious centre. The region suffered sociopolitical collapse.
But by the 11th century, numerous Italian city-states. Led to a flourishing of Italian culture, producing famous scholars, artists, and polymaths. Such as Leonardo da Vinci. Italian explorers such as Marco Polo. Discovered new routes to the Far East. Helping to usher in the European Age of Discovery. Nevertheless, Italy remained politically fragmented and fell prey to European powers. Subsequently entering a long period of decline that lasted until the mid-19th century.
After various unsuccessful attempts, the second. Wars for Italian independence resulted in the eventual unification.
Of most of present-day Italy by 1866. From the late 19th century to the early 20th century, the new Kingdom of Italy. Rapidly industrialised and acquired a colonial empire. However, southern and rural areas of the country remained largely excluded from industrialisation, fuelling a large and influential diaspora. Despite being one of the main victors.
Italy entered a period of economic crisis and social turmoil, leading the way to the rise of a Fascist. The subsequent participation in World War II. Side ended in military defeat, economic destruction and civil war.
In the years that followed, Italy abolished the monarchy, reinstated democracy, and enjoyed a prolonged economic boom. Thus becoming one of the world's most developed nations. Italy has the third largest economy in the Eurozone. Largest economy in the world. It has a very high level of human development. And enjoys the highest life expectancy.
Italy plays a prominent role in global military, cultural and diplomatic affairs and is also considered to be a major regional power. Member of the European Union. And the member of numerous international institutions, including the UN.
The Union for the Mediterranean. As a reflection of its vast cultural wealth, Italy is home to 51 World Heritage Sites.
The most in the world, and is one of the most visited countries. World-renowned expert numismatist, enthusiast, author and dealer in authentic ancient Greek, ancient Roman, ancient Byzantine, world coins & more. Ilya Zlobin is an independent individual who has a passion for coin collecting, research and understanding the importance of the historical context and significance all coins and objects represent. Send me a message about this and I can update your invoice should you want this method. Getting your order to you, quickly and securely is a top priority and is taken seriously here.
Great care is taken in packaging and mailing every item securely and quickly. What is a certificate of authenticity and what guarantees do you give that the item is authentic? You will be very happy with what you get with the COA; a professional presentation of the coin, with all of the relevant information and a picture of the coin you saw in the listing.
Additionally, the coin is inside it's own protective coin flip (holder), with a 2x2 inch description of the coin matching the individual number on the COA. Whether your goal is to collect or give the item as a gift, coins presented like this could be more prized and valued higher than items that were not given such care and attention to. Is there a number I can call you with questions about my order?
When should I leave feedback? Please don't leave any negative feedbacks, as it happens sometimes that people rush to leave feedback before letting sufficient time for their order to arrive. The matter of fact is that any issues can be resolved, as reputation is most important to me.
My goal is to provide superior products and quality of service. How and where do I learn more about collecting ancient coins? Visit the "Guide on How to Use My Store". For on an overview about using my store, with additional information and links to all other parts of my store which may include educational information on topics you are looking for.
You may also want to do a YouTube search for the term "ancient coin collecting" for educational videos on this topic. The item "1865 Italian VICTOR EMMANUEL II Antique 20 Lire Gold Coin Italy NGC MS62+ i61380" is in sale since Friday, May 05, 2017. This item is in the category "Coins & Paper Money\Coins\ World\Europe\Italy, San Marino, Vatican\Italy (1861-Now)".
The seller is "highrating_lowprice" and is located in Rego Park, New York. This item can be shipped worldwide.
Year: 1865
Composition: Gold
Grade: MS 62+
Certification: NGC
Country/Region of Manufacture: Italy
Certification Number: 4247766-018
Circulated/Uncirculated: Uncirculated

---